Appearance
In contrary to his younger Brother Arthur, Scott is rather tall. His hair, with its fiery red color, isn't long, but still somewhat messy.
He possesses the same thick eyebrows as all of his Brothers, though his aren't really as thick as Arthur's. Those, and the forest green eyes he owns, are the only things he shares with his family.
A pierced ear and his never fading smugly smirk is what separates his facial appearance from the others.
Most of the time he decides to wear casual clothes, his Uniform, as proud as he is, is only to be worn during meetings. The only thing that always has to be added to his outfit in public is, of course, a tie.
Player2 Scotland is not the kind of guy to mess with. He has a weird sort of humor, as black as Russia's heart, and you will have to bring a great amount of patience with you if you're to get into a debate with him.
Scott is a smartass. He would never let anyone outsmart him in any way.
Also please beware of this guys nature. He tends to remind people on who he was once... the unpleasant way.


Gakuen!Scotland is a rowdy. Being Senior in school makes him part of the oldest students and though being clever and having no problems at all in school he rather spends his day off in bed or at a friends house, drinking. He also smokes. His siblings cannot say anything because he's full-aged and in charge at home.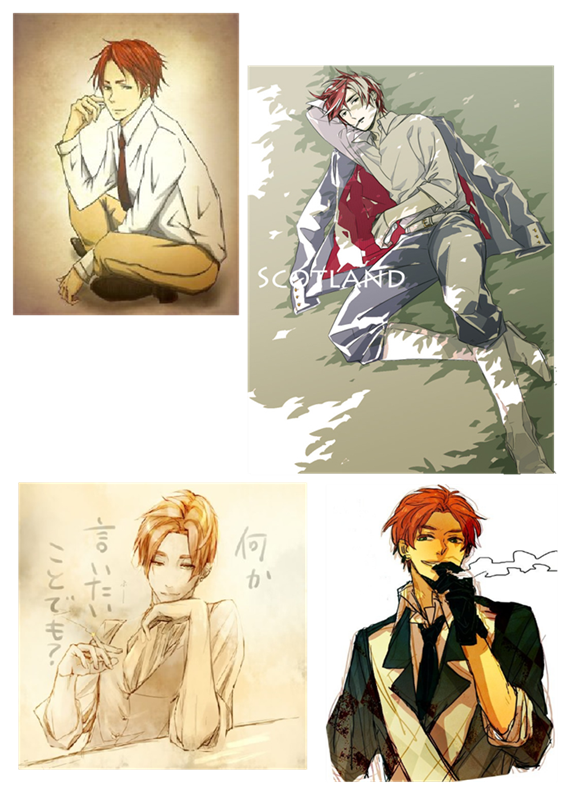 Auld Alliance
A long lasting and dear held friendship between Scotland and France is what England annoys the most. They share not only parts of their language, but culture (in clothing an in cooking) and their humor and hate against Arthur.

It is known that Scott's friends are per 90% Arthur's enemies and of course the red-head does this not on purpose. It's time's fault.
They would talk about many things, with under their past and how things have developed until now. Looking back onto his past with his friends and laugh about it is one of his most favorite hobbies next to playing bagpipes.