Smart Lad
don't get fooled, when he makes stupid comments or laughs at you. Scotland can be a little smartass! being '
canny
' is another one of his stereotypes... he simple doesn't want to make foolish comments... so he isn't much of a talker, when it comes down to serious topics.
if you re going to express a firm opinion, be sure that he'll shake it around, beating it up until you give up and accept his answer... well... until you are convinced his opinion is the right... and only his
by the way: it would be wise to analyse his way of talking first... scottish humor is not the kind of humor you know!
Appearance
In contrary to his younger Brother Arthur, Scott is rather tall. His hair, with its fiery red colour, isn't long, but still somewhat messy.
He possesses the same thick eyebrows as all of his Brothers, though his aren't really as thick as Arthur's. Those, and the forest green eyes he owns, are the only things he shares with his family.
A pierced ear and his never fading smugly smirk is what seperates his facial appearance from the others.
Life Style
there are many contradictions in this guys character:
traditional and innovate or sober and at the same time somewhat untamed;
He's a proud person and will do as he pleases..no matter what other people may think about him. When something gets his attention, he's working hard to get it. he doesn't like being told that something is impossible. He's quite the stubborn guy.
And of course he wears Kilts, not only to speacial occasions, but also just randomly.... still he wears trousers, for reasons...
Behaviour
His behaviour depends much on his current mood. And you have to keep an eye on his movements, eyebrows and other facial eypressions, when greeting him... keep in mind, that even a simple '
aye
' can have a thousand meanings!!!
He may not look like the type of guy who can act properly, but having spent much time with Monarchs and with members of the royal family, he can be far more Gentleman than certain other persons.
His relations with his Brothers are each different from another, grown from centuries of war, peace and neutrality they argue, ignore and also fight with each other. Yet they're brothers and share a great past with each other...
another important point to hint at: him being quite unhurried in his actions... don't say he's lazy
Flower of Scotland
Oh Flower of Scotland
when will we see yer like again
that fought and dies for
yer wee bit hill and glen
and stood against him
proud Edwards army
and sent him homewards
tae think again~
The Hills are bare now,
And Autumn leaves
lie thick and still,
O'er land that is lost now,
Which those so dearly held,
That stood against him,
Proud Edward's Army,
And sent him homeward,
Tae think again.
Those days are past now,
And in the past
they must remain,
But we can still rise now,
And be the nation again,
That stood against him,
Proud Edward's Army,
And sent him homeward,
Tae think again.
0 Flower of Scotland,
When will we see
your like again,
That fought and died for,
Your wee bit Hill and Glen,
And stood against him,
Proud Edward's Army,
And sent him homeward,
Tae think again.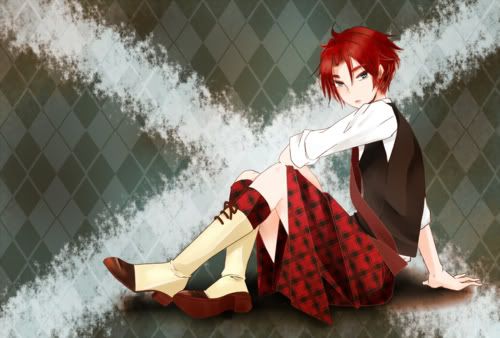 He shared much of his past with France. The 'Auld Alliance' from 1295 was what connected their Kingdoms. Defending and fighting for each other, they stayed friends, even when the Alliance broke in 1560, when Scotland signed the Treaty of Edinburgh (Treaty of Leith)
Today they share a deep relationship, laughing (and most likely drinking) together.